This year we honor a person very close to the Ancient Order of Hibernians, JK McKnight. JK has been around the Hibernians for most of his life as his father Kelly is a very active member and also a past President of the Division. JK is also a graduate from St Xavier High School. This however did not lead to this honor.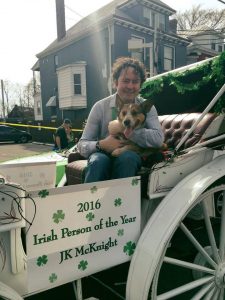 JK is best known for starting the very popular Forecastle which is presented yearly in Louisville. This festival has grown from humble beginnings in July of 2002. JK had an idea and started with a mere $500 to launch it. His idea was to start a music festival that also supported a greater cause. JK stated "I didn't want a music festival; I wanted something different. To this day I've never seen another festival do the same. Hopefully, Forecastle provides a Midwest beacon to people all over the region to express themselves and network with like-minded musicians, artists and environmental activists."
Forecastle has grown from 200 attendees at a free festival to one that brings in tens of thousands of people to the Louisville area. It was recently reported in an impact study that the festival alone brings in 14 million dollars to the local economy. To say JK has helped the entire Louisville area, and beyond, is an understatement. The commitment of JK to keep this local festival here is echoed by his statement "As far as the festival, we're never going to leave Waterfront Park," he said. "We can never outgrow it."
JK is also a giving person. In 2010 he followed his dream and established the Forecastle Foundation.  The Foundation was begun to The 501(c)(3) organization now operates year-round, independently of the festival, to protect and preserve global hot spots. This is a truly international foundation that helps protect the world's environmental hotspots. The Foundation works with local partners to raise awareness and money while educating people and soliciting volunteers. They do this all with those that align with the Foundations goals. They have worked locally in the Pine Mountain and Green River areas right here in KY.
The "captain" used the name Forecastle for specific reasons. JK found that the forecastle is the superstructure at the bow of a ship that houses the crew. This was an area of hard workers and also one where they would gather at the end of the day to unwind. This name truly exemplifies the Festival, the Foundation and JK himself. Please join us in congratulating JK McKnight as our 2016 Irish Person of The Year.
For more information on the festival and the foundation please visit:
Forecastle Festival:         http://forecastlefest.com/
Forecastle Foundation: www.forecastlefoundation.org